A few weeks back I published an article presenting 25 of my favorite songs to have on in the background while engaging in creative writing. I regard it as necessary to put oneself in a trancelike state in order to focus deeply on creative work and music can be very helpful in attaining it.
I intend to expand this list from time to time, however rather than jumbling together multiple styles, I'll make each follow-up post centered around a specific type of music. For this list, we're going heavy — these are the metal and alternative tracks to help you get into the zone while writing. Presented in no particular order, save for an older brother's pride…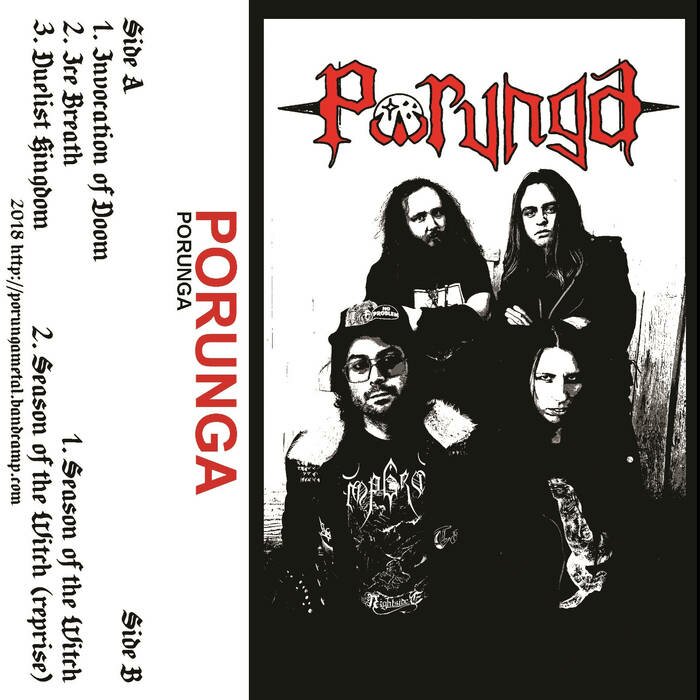 1. "Season of the Witch" and its reprise by Porunga
Click here to stream the full demo for my younger brother Jeremy's metal band Porunga, based in Bloomington, Indiana. (For the curious, their name is inspired by a Dragon Ball Z character who grants wishes.) I've known for years that Jeremy is an extraordinary guitar player with considerable range, capable of playing fast, intense heavy metal but also beautiful classical guitar (both featured in my favorite tracks from Porunga's debut.)
What takes this album to the next level for me, though, is that it's not just Jeremy's debut as a lead guitarist, but also as a composer. He wrote the music for all the songs. And if the music is already this great on the band's demo tape, I can only imagine (and be very excited) thinking about future songs on a full-length album. Keep it up, bro! Big Brother digs your art.
2. "Third Eye" by Tool
I meant to include this legendary Tool song — featuring the mystical-psychedelic comedy of the late, great Bill Hicks — on the previous list. My apologies for all Tool fans for the oversight. Is there a better Tool song in their whole catalog? Or others that should go on an expanded version of this list?
Generally with writing songs I'm looking for a creative combination of lyrics augmented by powerful music — music to get pumped up and upbeat while listening. And Tool delivers here — listen to the song while writing to open your third eye and let the creativity flow.
3. "Iron Man" by Black Sabbath
Admittedly, I particularly like "Iron Man" now that it's linked with the Iron Man movies. While listening one can get in the Tony Stark genius-visionary-creative-entrepreneur mindset.
4. "Mr Crowley" by Ozzy Osbourne
The list would seem incomplete without at least one Ozzy track. And this one should inspire occult-minded creatives. Is there a better song to invoke the spirit of Aleister Crowley to come and assist you with your writing?
5. "The Outsider" by A Perfect Circle
As with Tool and Ozzy, A Perfect Circle track seemed obligatory for the list. Since all writers, creatives, and artists are "outsiders" in one sense or another, this track struck me as the most inspiring and energizing. Embrace your outsider status.
6. "The Everlasting Gaze" by The Smashing Pumpkins
So I decided to avoid the debate about what actually constitutes "heavy metal" vs what is "alternative rock" by including a mix of both in this list. Of the two genres I'm generally more into the latter. (Many of the most prominent heavy metal bands – like Metallica and Judas Priest — don't do much for me. Or at least not yet. Anyone who wants to create a list of preferred tracks from them I invite to do so.) On the other hand, the Smashing Pumpkins remain a creative staple and this single from the band's final album probably leans more in the heavy metal direction.
7. "Knights of Cydonia" by Muse
With this track and the next one the speed tends to move at almost a sprinting pace — thus capable of inspiring one to attempt to match the fast pace while writing.
8. "Through the Fire and Flames" by DragonForce
Surely I'm not the only who fondly remembers this as the ultimate, nigh-impossible track from the Guitar Hero series?
9. "Cochise" by Audioslave
RIP Chris Cornell. This is my favorite Audioslave track. Aside from the song being energetic, impassioned, and exciting, the above music video (directed by the acclaimed Mark Romanek) can also be used to fire up your creative engines.
10. "Dragula" by Rob Zombie
Again, a Rob Zombie track seemed necessary for the list, and this track evokes some exciting, heroic memories. Remember when you saw The Matrix for the first time? That's, of course, what it brings to mind for me.
What would make your list?
So there you have my initial list of heavy metal and alternative songs to pump you up while writing. What songs are on your writing rotation? Does loud, heavy metal help or are you a classical, jazz, hip-hop, or classic rock person? Please let us know in the comments or if you'd like to write an article/blog post on the subject you can email to submissions [@] libertyislandmag.com